Shopping Cart
Your Cart is Empty
Thank you for your business!
You should be receiving an order confirmation from Paypal shortly.
Exit Shopping Cart
Aaron Badgley is owner and artist for Thatz-U Caricatures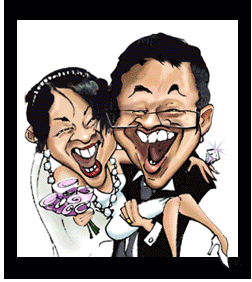 Caricatures are a popular form of entertainment for a number of reasons. They take up little space to perform. Also, provide entertainment for onlookers who enjoy watching a rare skill. Provide your group with your letterhead or logo and making an amusing and memorable souvenir of your special event. The artworks may also depict the subject as a full body in a favorite hobby or occupation with a caption or nickname. For nearly twenty years of drawing caricatures at a wide range of functions, Aaron has developed an amicable persona necessary for any entertainer working with the public.
Caricatures are a great item on any entertainment program. From private parties, weddings, trade shows, company conferences and conventions, regional shows and festivals to your every day country pub. Caricatures can be in black and white and drawn in as little as three to five minutes per person from an easel. Caricatures can also be drawn roving. However, these may take a little longer depending on the co-operation of the subject.
Q. HOW MANY ARTISTS WILL YOUR PARTY NEED?
A. Aaron can draw each person black and white (head only) within three minutes per person.
We recommend you estimate sixty percent (60%) of your guests will request a caricature from your guest artist.
So, if you have 100 guests, expect around sixty will participate. Although not everyone will sit for the artist, most of your guests will take time to watch the artist draw caricatures. It's a fun and entertaining process everyone can enjoy.
On average a caricature artist creates 10 - 15 black and white faces per hour, about half that number for color caricatures. So, one artist will create 30 - 45 B&W faces over three hours. If you have one hundred guests, you will need two artists to complete all requests during that time frame.
Q. WHAT IF OUR GUESTS ARE COUPLES?
Artist work is based on the number of faces they draw, so a couple on a single page still counts as two faces. A group of seven people on one page counts as seven faces.
To find out more about entertainment prices please review the descriptions on the booking event page. I will be happy to speak with you about any specific information and details.
I will send you a copy of your booking form and confirm the event prior to your event.
Aaron Badgley has been drawing Caricature Art and Illustration Art professionally for over twenty years for corporate and public customers. Aaron lives in Clarkston Michigan. Visit www.AaronScottBadgley.com for more options and booking information.
/